Hop On Hop Off City Line & Pétrusse Express Combi Ticket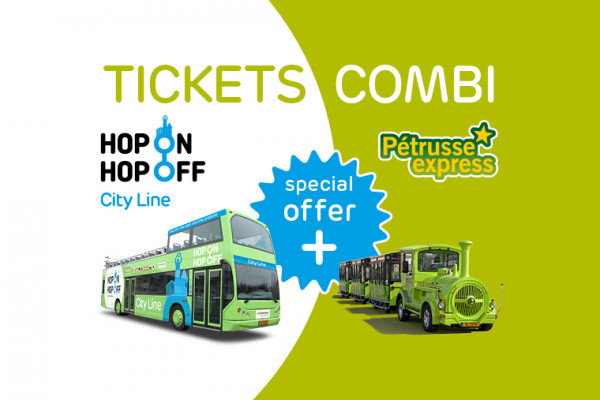 Take advantage of our combi offer and book your Hop On Hop Off - City Line and Pétrusse Express experience with a single ticket at a special price.
Combi offer at an unbeatable price
Trip with the Hop On Hop Off City Line bus
Trip with the Pétrusse Express
Discover Luxembourg City from different perspectives
Included

Journey on the Hop On Hop Off City Line AND Pétrusse Express (combi-ticket)
Audio guide in 7 languages: Luxembourgish, French, German, English, Dutch, Spanish, Russian
Free poncho in case of rain (for the Hop On Hop Off ride)
Free headphones
Free wifi on the Hop On Hop Off bus

Not included

Please note! Unfortunately, the Pétrusse Express is not wheelchair accessible. Feel free to contact us and we will try to find a solution.

Bring along

The bought ticket must be presented as a print or digital ticket.

Participants
Maximum 78 people per bus Maximum 45 people per train
Important information

Departures every 60 minutes
Place of departure Pétrusse Express: Montée de Clausen
Place of departure Hop On Hop Off City Line: Avenue Monterey
Please note that the routing may change due to the many construction sites in the city
On our website sightseeing.lu you will always find the most recent updates
Further information
With this combined ticket you can enjoy two different city tours:
1) With the Pétrusse Express, the small touristic train, you will explore the old town of Luxembourg.
During the sightseeing tour you will see the remains of the fortress, among other things.
2) Our Hop On Hop Off City Line will take you mainly through the modern part of the city, through the European and banking district. Enjoy a wonderful view aboard our double-decker buses.
Duration of the two tours:
Hop On Hop Off: +/- 1 hour
Pétrusse Express: +/- 45 minutes
Departure points:
Hop On Hop Off: Avenue Monterey
Wednesday to Sunday from 10 am - 5 pm
Pétrusse Express: Montée de Clausen
Saturday and Sunday from 10 am - 5 pm
Regular Price: €16.00
Special Price: €0.00